Discover more from Adam's Newsletter
Hi, I'm Adam Schoenfeld. Each week I share one question, idea, or framework that I'm learning from others, along with updates from my podcast and Seattle startup tracker.
Over 1,000 subscribers
#7 — The August Startup Hiring Tracker Update
Full data refresh, 10 hand-crafted charts, just for this group.
Here's your PSJ weekly — This issue is dedicated to the Seattle Startup Hiring Tracker. It's a full data refresh and analysis for a new month.
---
Because I love you, this is the only place I posted the full analysis for August. 🤓🙏
If you are looking for something public to share, I posted this deck on LinkedIn, Geekwire wrote an article (thank you, Taylor!), and the tracker will always be public.
Let's get into it…
Who's Hiring in a Pandemic?
We are in a pandemic. Startups have lots of open roles listed, but growth is mixed. 67% of companies have open roles on their jobs page. There's a pretty even mix between growth, staying the same, and contraction. Here's a good summary view: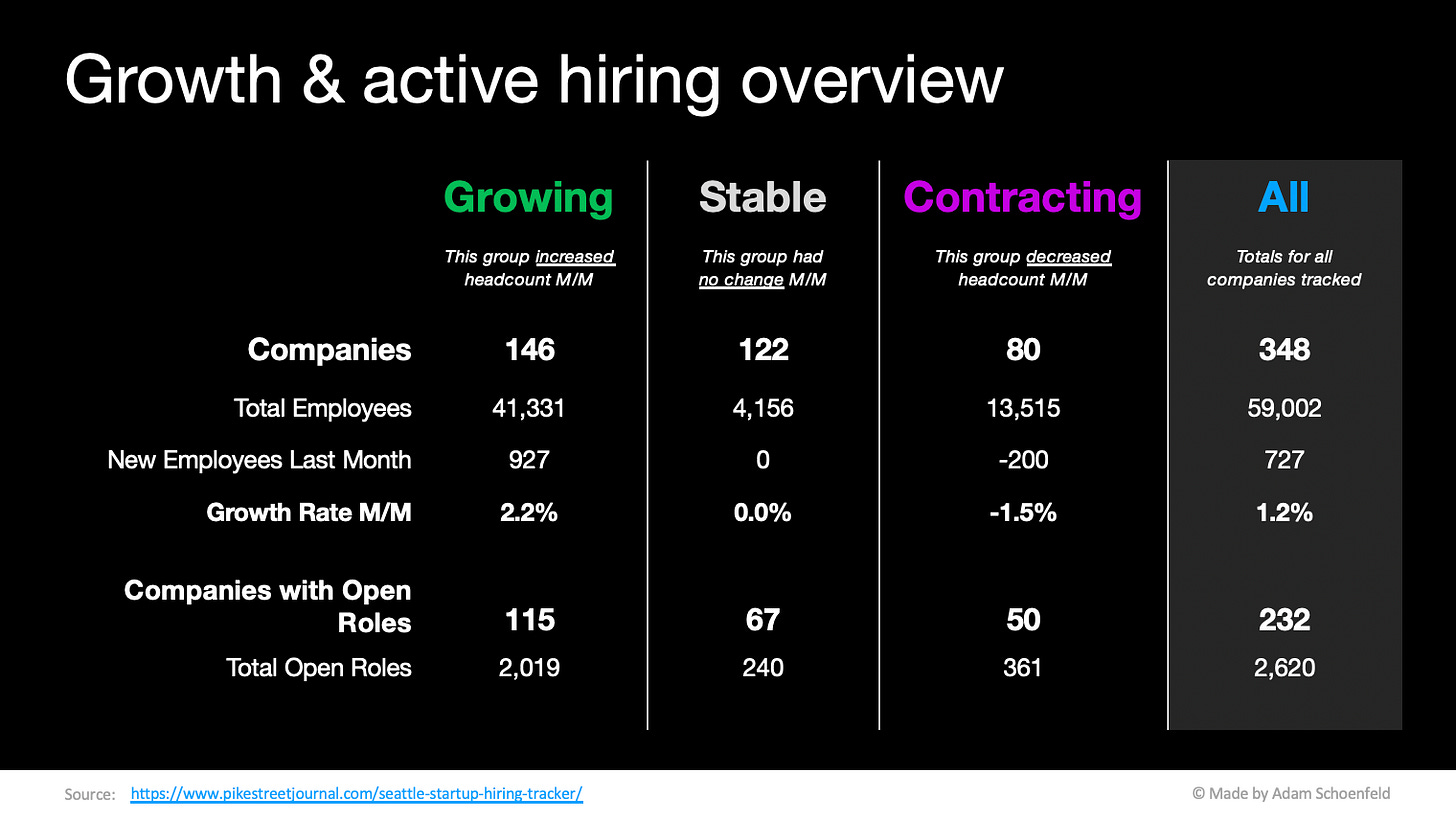 Open Roles vs Actual Hiring
When looking at open roles, the picture is optimistic. There are 2,620 open roles in aggregate across all companies. That's 4.5% of the 59,002 employees across the 358 companies tracked. For comparison, Microsoft has ~57K employees in the greater Seattle area and 1,394 open jobs on its website. This chart shows the distribution of companies by open roles and open roles as a percentage of headcount: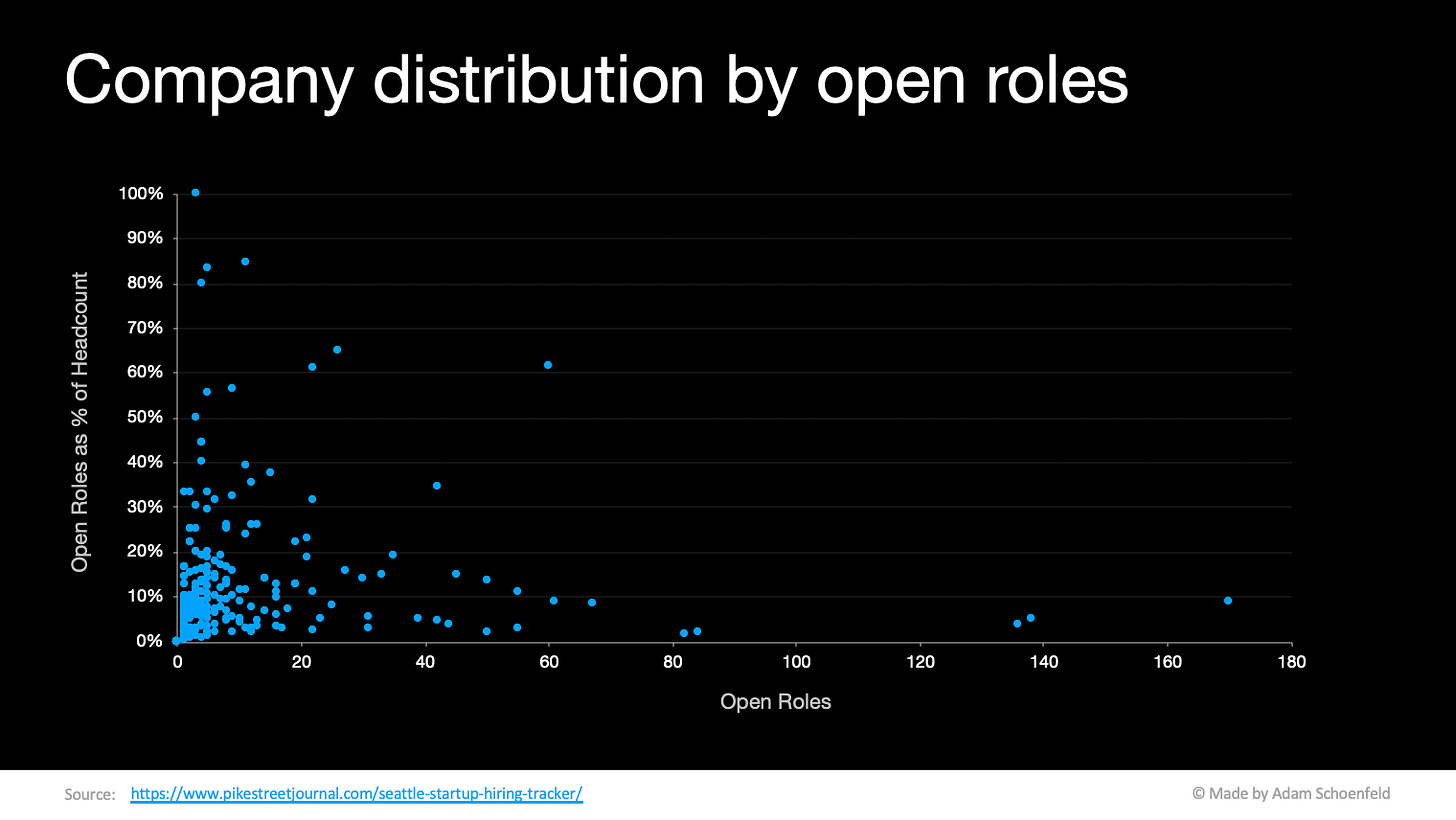 Actual employee growth is less optimistic. 42% of companies in the tracker grew headcount last month, compared to 67% with open roles. I don't want to read into this too much because it's standard practice to list job openings for more than a 30-day hiring window, but the delta does make me wonder if startups are being slower or more conservative in actually making new hires. You can see the difference here: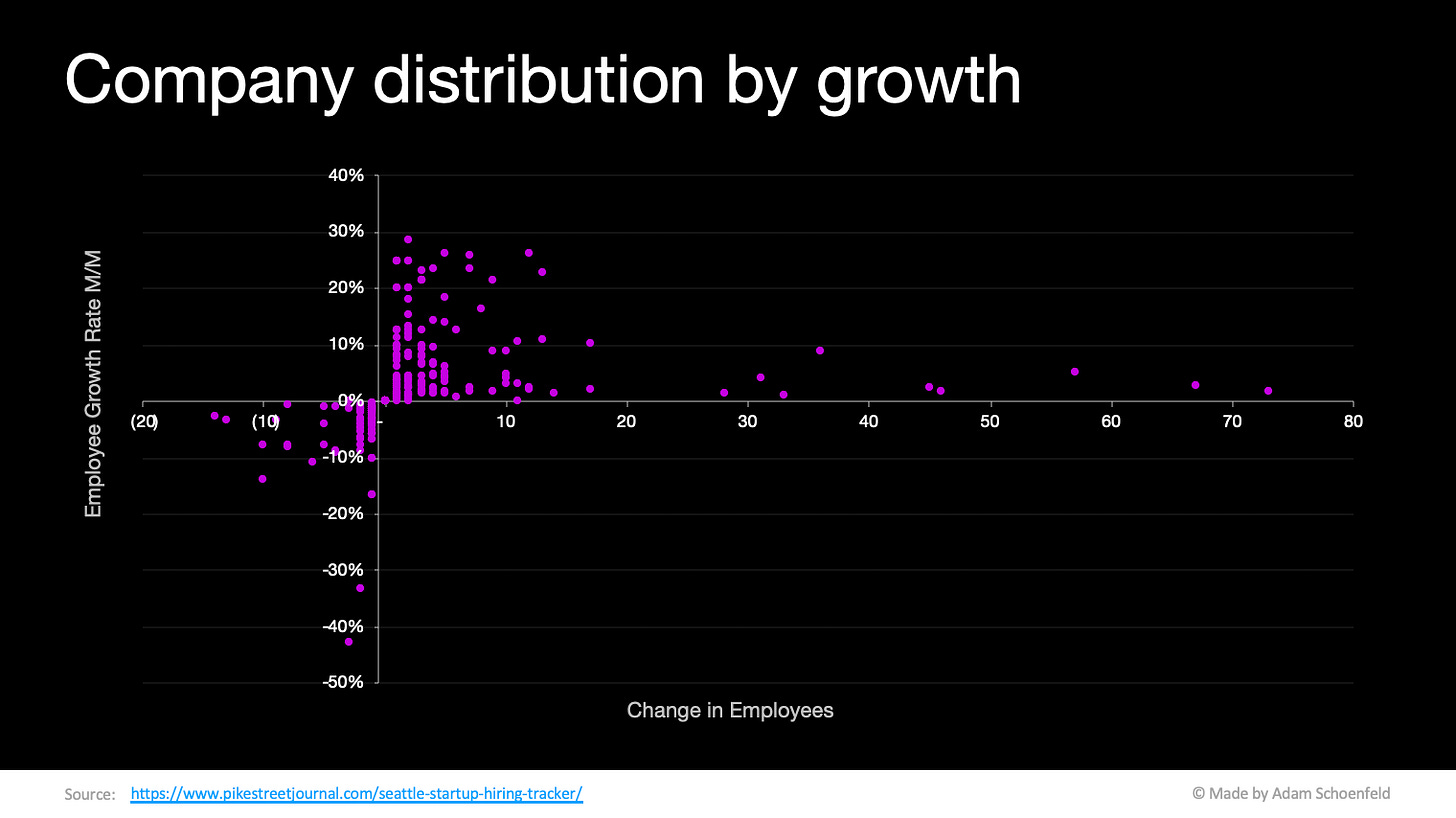 The Winners Keep Winning
Growing startups are growing fast. 21% of companies increased headcount by more than 5% last month. It's hard to know if they are winners because of the pandemic or if the winners just continue winning despite the pandemic.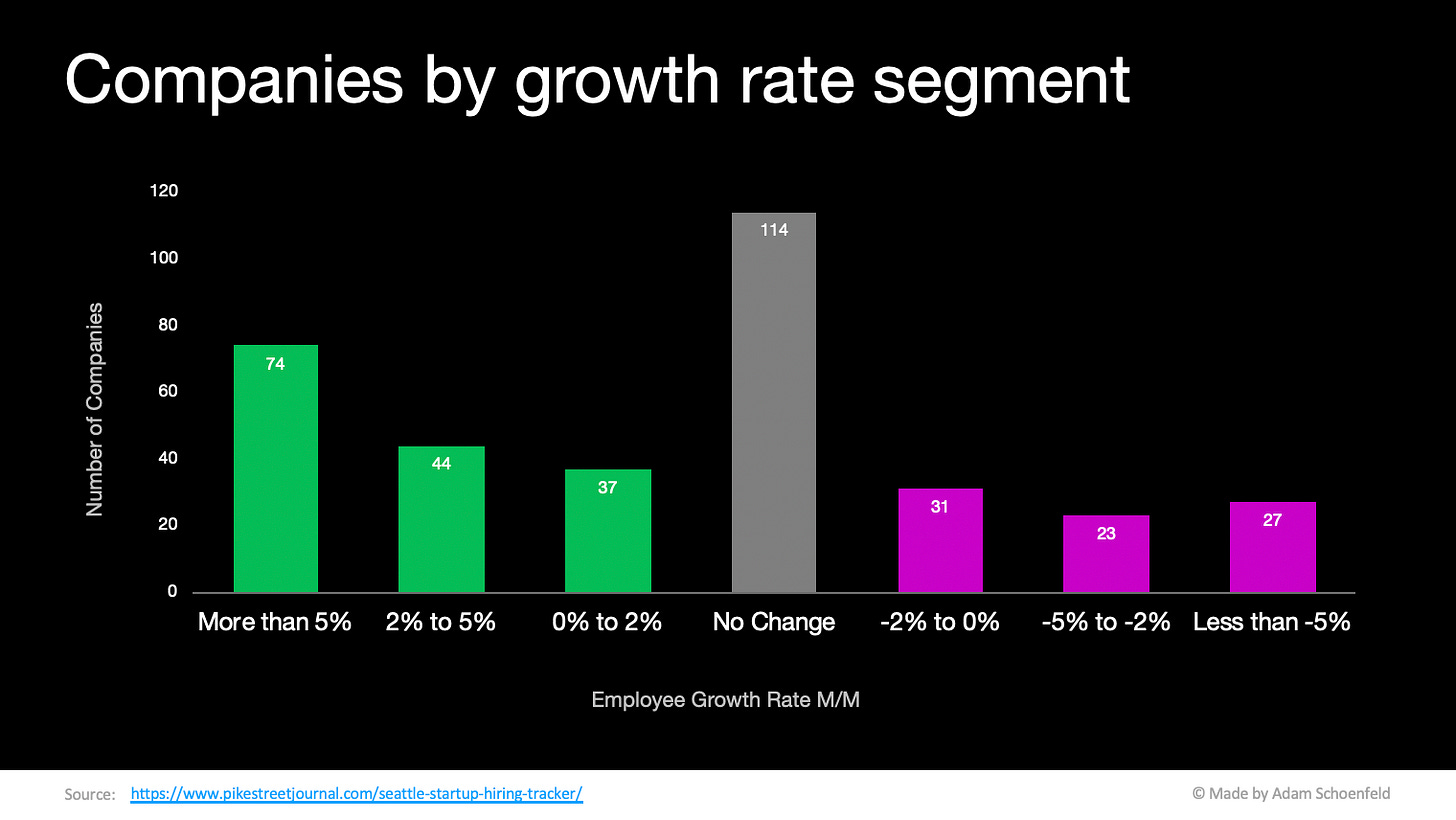 Where Are the Early-Stage Jobs?
There's been way more founding and funding in the early stage the last few years, but hiring was slower than you might think last month. Only 34% of companies with less than 100 employees grew last month, and 28% of startups with under 30 employees.
If you want to get hired at an early-stage Seattle company, you will need to be very targeted and patient.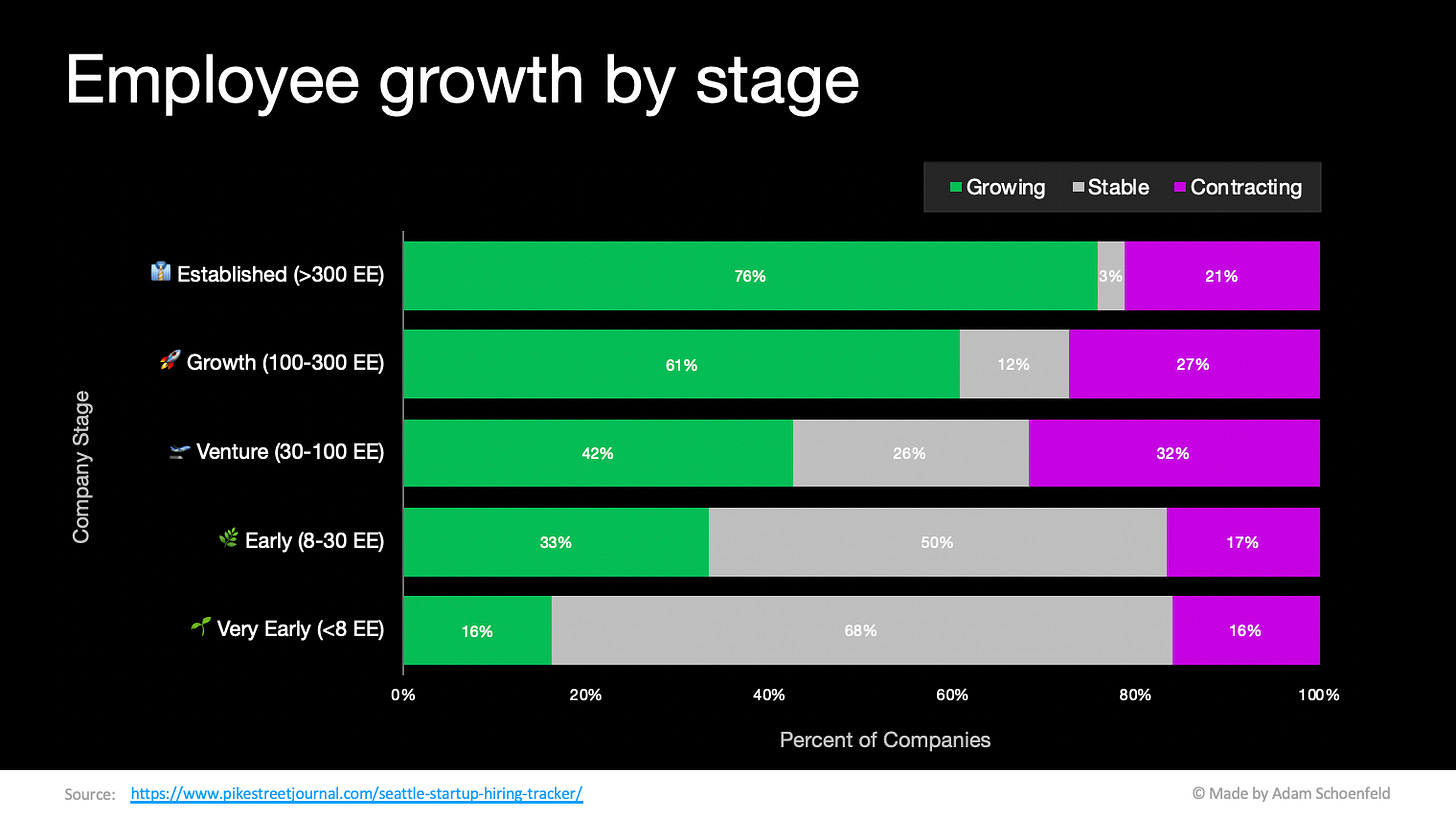 That said, there are some clear break-outs in the middle and early-stage doing a lot of hiring. Esper had 23% growth and has 22 open jobs, Ally.io just crossed 100 employees up from 14 one year ago, and DemandStar, Shelf Engine, OctoML, Cabana, and Athira Pharma have the highest overall growth rate and have more open roles.
Tip to find more: Use the "Stage & Employees" filter on the tracker, filter for open roles >0, then sort by employee growth.
The early-stage looks a little better on open roles, but still much less active.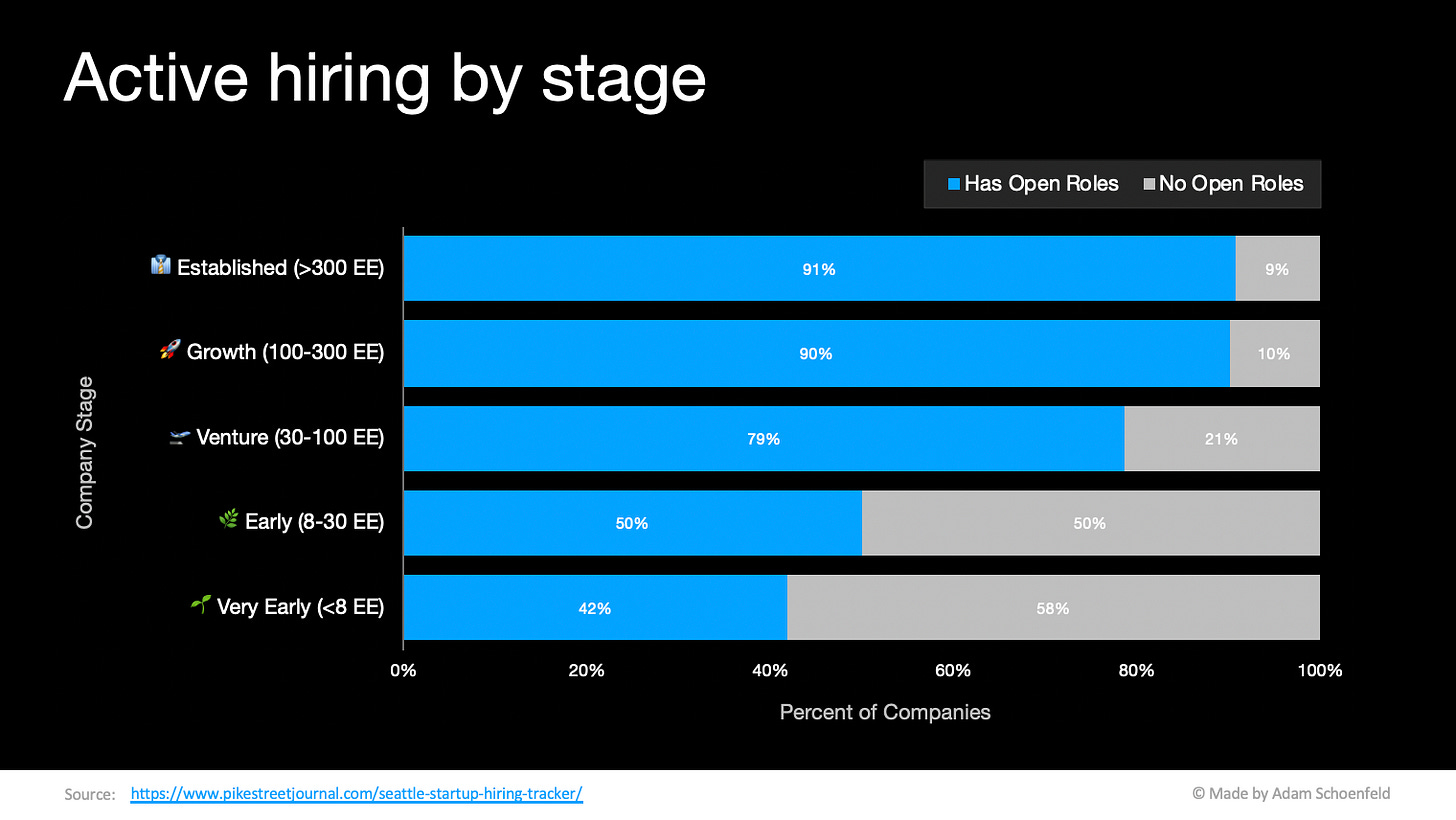 Meanwhile, the cohort of public companies like Redfin, Avalara, and Smartsheet continue to grow fast and have dozens of open roles. It's the same story with private unicorns like OfferUp, Icertis, Remitly, Outreach, Convoy, and Auth0.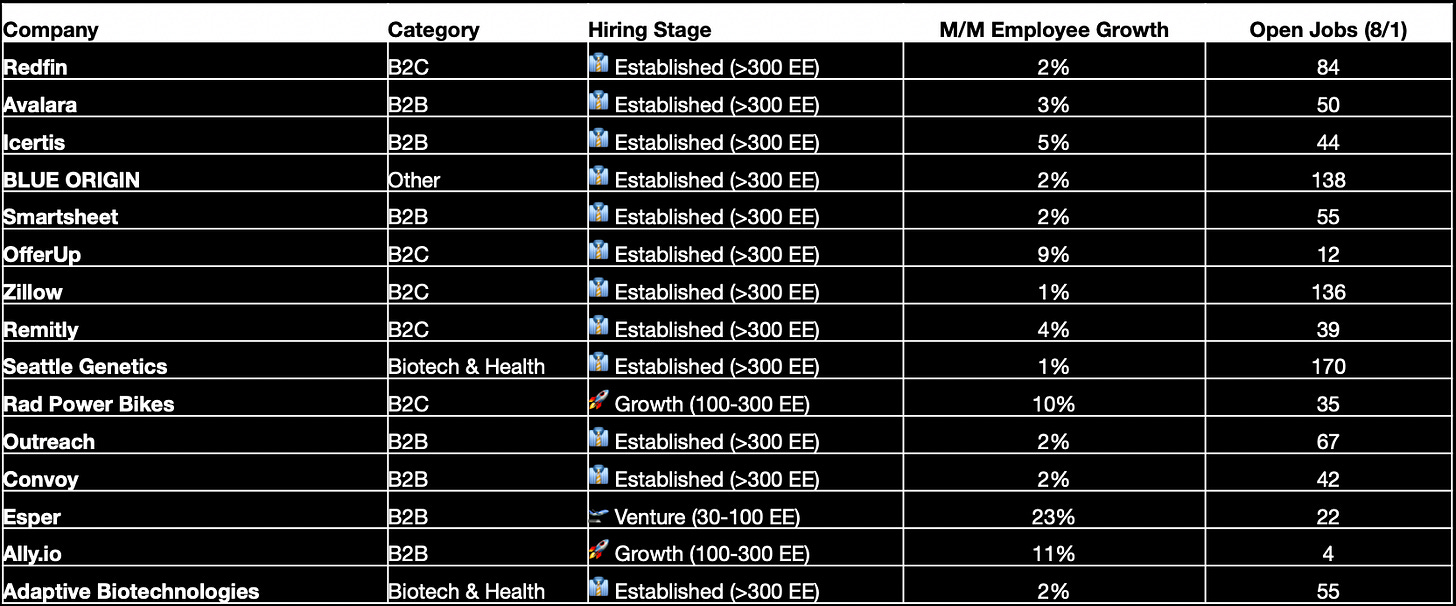 Seattle is a B2B Town
I didn't realize this fact — Seattle startups are way more B2B. 58% of companies tracked are B2B. Some B2C founders have said that we need more B2C specific funding here.
Across all stages, B2B companies are in the lead. They have the most open roles and highest employee growth.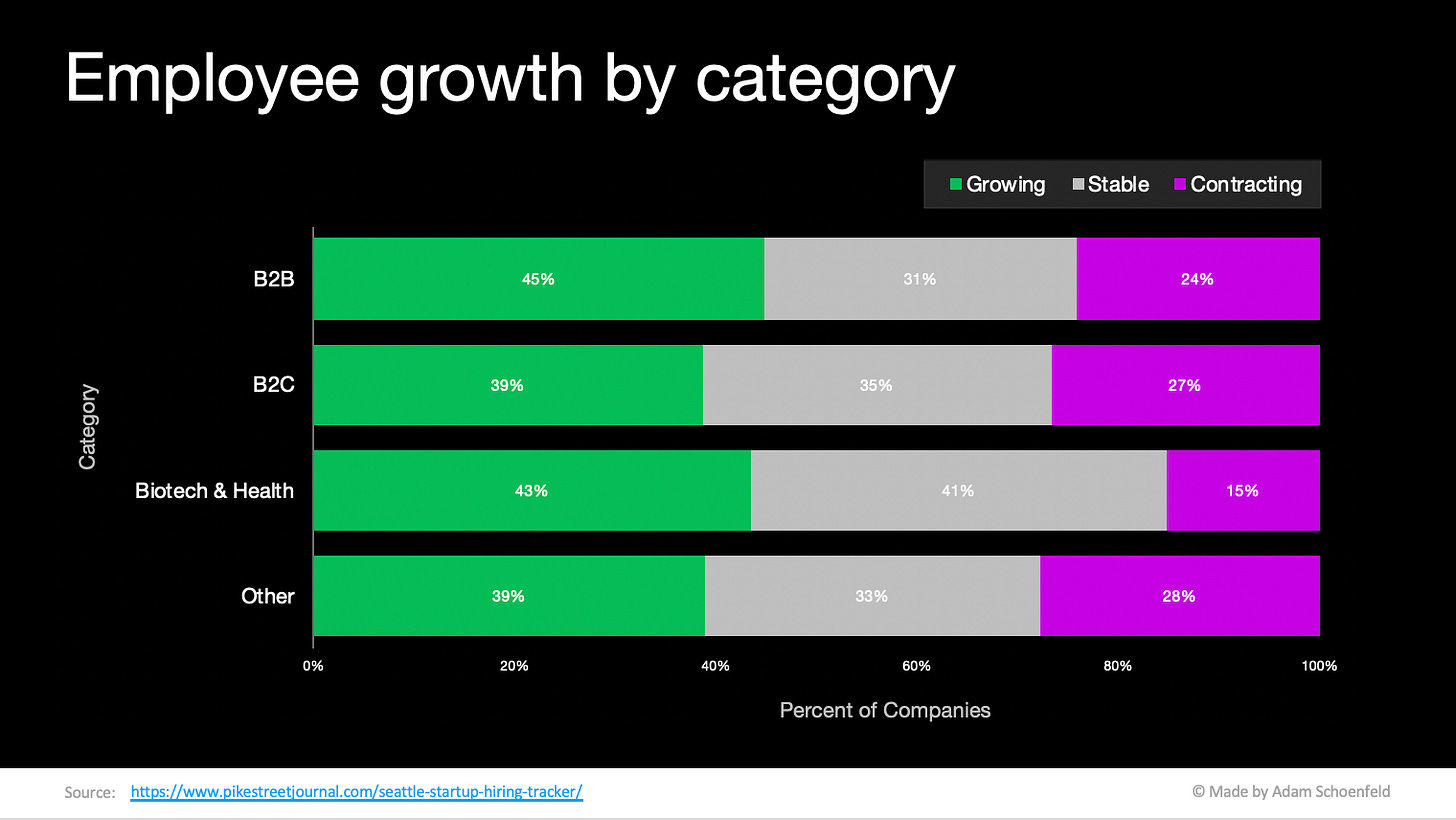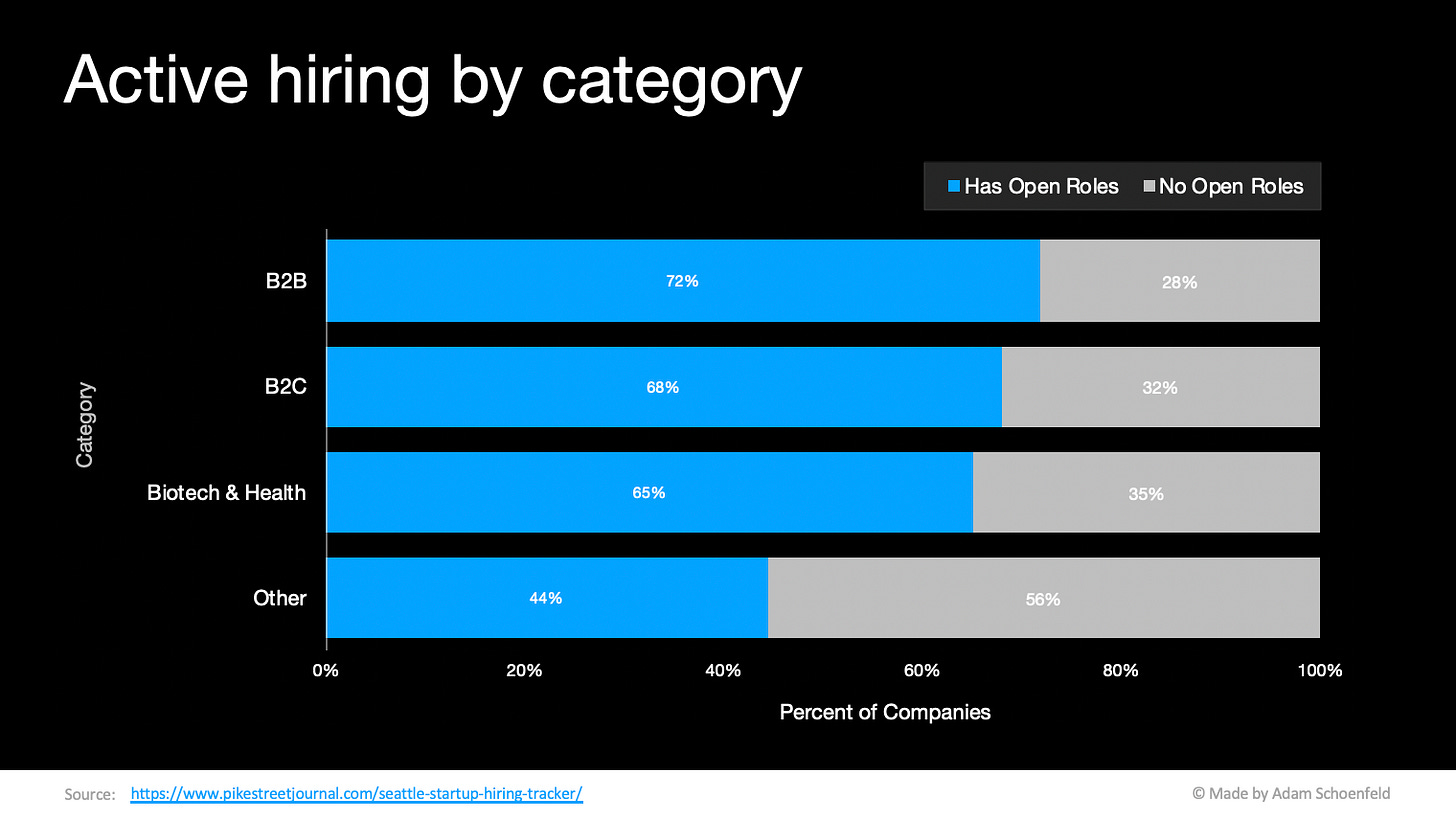 When you combine stage and category, the B2B companies really stand out in the venture stage. 2/3 of the companies in the 30-100 employee segment are B2B. And they account for the same share of open roles in that category.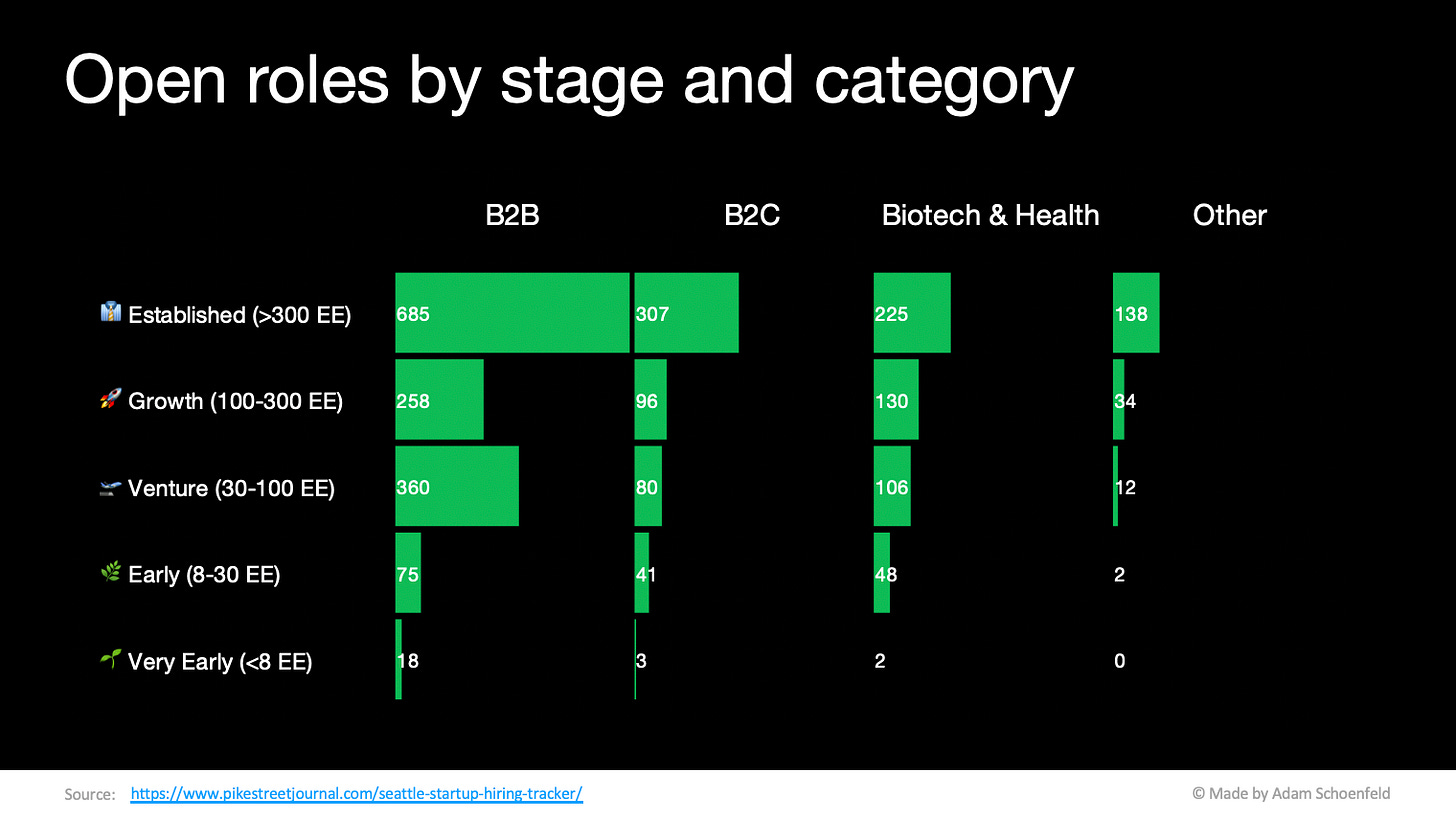 What's Next?
If the pandemic has taught me anything, it's that I can't predict SSHT. (Mom, if you are reading, thanks for laughing ❤️).
Will hiring in August close the gap with open roles? Will there be more Seed, A, and B rounds to give the early-stage operators more confidence? Will more companies expand their talent pool outside of Seattle for cost savings and diversity?
The only thing I expect in this environment is to be surprised.
I'll keep asking those questions and see what we can learn from this small slice of the world next month.
---
Thank you for reading! Replies always welcome. 🙏
— Adam