Discover more from Adam's Newsletter
Hi, I'm Adam Schoenfeld. Each week I share one question, idea, or framework that I'm learning from others, along with updates from my podcast and Seattle startup tracker.
Over 1,000 subscribers
#4 — Prem Kumar, Startup Hiring Tracker, Accolade
Here's your PSJ weekly — an insider take on Seattle startups and the people behind them.
1 quick housekeeping item:
Many of you came from the Seattle Startup Hiring Tracker that I posted last week. Thank you! Because it struck a chord, I'm doubling down in two ways:
I'll send a full refresh here each month.

I'll put extras from the SSHT in these weekly emails (below).
Onto the weekly journal…
---
Seattle Person
(who I'm learning from this week):
I talked to Prem Kumar, CEO & co-founder at Humanly.io. 🎧Podcast here.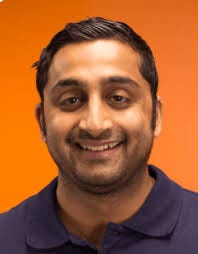 He's done two uncommon things: 1.) Raised funding during COVID (Geekwire story), without meeting most investors in-person; 2.) Got into Y Combinator from Seattle.
How did he stand-out? Prem said that honesty helped him get investor confidence versus over-selling.
"We weren't going in necessarily trying to tell a specific story. We didn't make it seem more than it was. [Instead,] we showed what we've learned through the process."
When the recorder was off, Prem shared two extras: 1.) He's coming back to both of Ben Horowitz's books. 2.) The truth that he believes, but others don't:
"I don't think nice guys finish last. I think they can finish first! And I think the movement toward empathy and servant leadership is making 'nice' a good thing [in business]."
---
Seattle Startup Hiring Tracker (extras and updates):
I didn't have this data in the July tracker, but I've started pulling employee growth rates. Here's a preview. This is the 15 fastest growing Y/Y with >30 employees.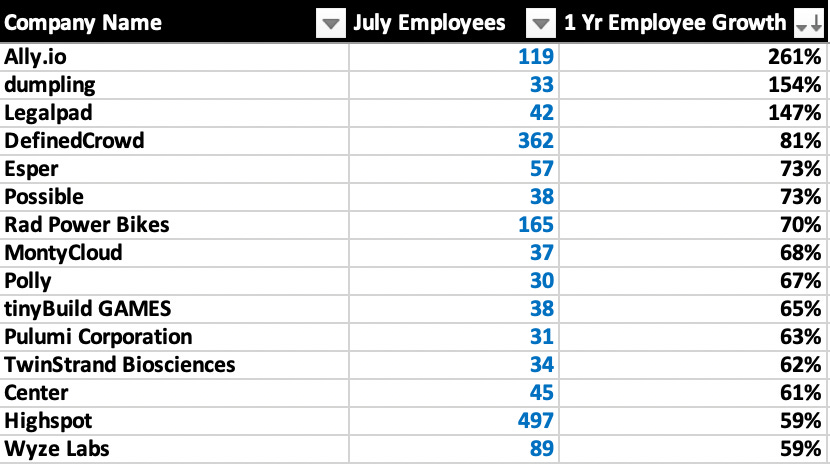 These weren't the names I expected. Any surprises for you? Would these trends be helpful to see next month?
---
Seattle Company (that I'm studying this week):

Accolade's $1.2B IPO was Seattle's first of 2020. I re-read the excellent letter from CEO Raj Singh in their S-1 (page 104). It's a role model piece. He gives a beautiful description of the company's principles. There are just five! To see the crispness of vision, check out the first 12 words:
"Healthcare in the United States in broken. Let's not sugarcoat that fact."
In my book, it's a role model for articulating big stakes simply. The rest of the letter is worth reading along with Geekwire's interview.
---
Thank you for reading! Replies always welcome. 🙏
— Adam